Make It Monday The Best Healthy Turkey Chili
Make It Monday The Best Healthy Turkey Chili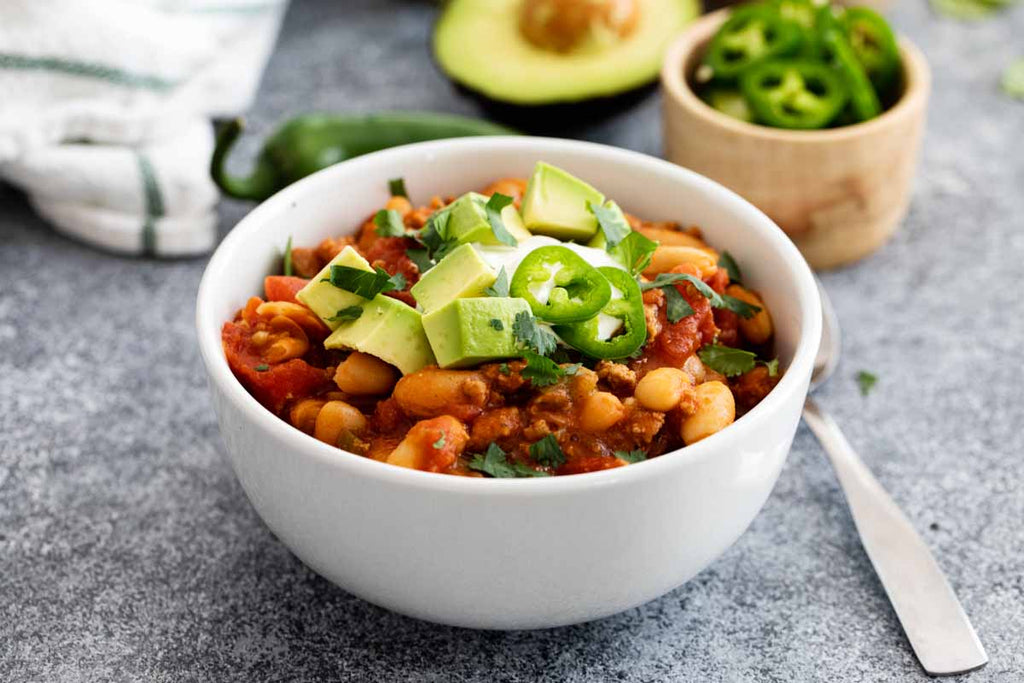 Total Time 55 minutes Makes 6 servings, about 1 1/2 cups each.
Healthy turkey chili made with lean ground turkey, kidney beans and corn. This version is simply the BEST! Perfectly spiced and packed with plenty of protein and fiber. Can be made on the stovetop or in your slow cooker.
• 1 yellow onion, chopped
• 3 garlic cloves, minced
• 1 medium red bell pepper, chopped
• 1 pound extra lean ground turkey or chicken (99%)
• 2 tablespoons chili powder – add more if you like really spicy
• 2 teaspoons ground cumin
• 1 teaspoon dried oregano
• 1/4 teaspoon cayenne pepper
• 1/2 teaspoon salt, plus more to taste
• 1 (28-ounce) can diced tomatoes or crushed tomatoes
• 1 1/4 cups chicken broth
• 2 (15 oz) cans dark red kidney beans, rinsed and drained
• 1 (15 oz) can sweet corn, rinsed and drained
• For topping: cheese, avocado, tortilla chips, cilantro, sour cream
1. Place oil in a large pot and place over medium high heat. Add in onion, garlic and red pepper and saute for 5-7 minutes, stirring frequently.
2. Add in ground turkey and break up the meat; cooking until no longer pink. Next add in chili powder, cumin, oregano, cayenne pepper and salt; stir for about 20 seconds.
3. Next add in tomatoes, chicken broth, kidney beans and corn. Bring to a boil, then reduce heat and simmer for 30-45 minutes or until chili thickens and flavors come together. Taste and adjust seasonings and salt as necessary.
4.
Garnish with any of the following:.
Sour cream
Tortilla Chips
Corn
Tomato Salsa
Chopped Onions
Jalapenos
Guacamole
Black Olives
Crumbled Cornbread
Mexican Chorizo
Chipotle Or Dried Peppers
A Wedge Of Lime
Creamy Greek Yogurt
Ripe Mangos
Bacon Pieces
Spices and Herbs    (From cumin to cilantro to oregano )
Cayenne
Hot Sauce
         Balsamic or Malt Vinegar
To make this recipe in the slow cooker: Reduce the chicken broth to 1/2 cup and brown the turkey and onions before adding to the slow cooker. Cook it on high for 3-4 hours or on low for 6-7 hours. This is an awesome tailgating or football party recipe
#naturalhomebrands
#wintersoups
#turkeychili
#healthyrecipe