Tuesday Tips - Pumpkins! and National Squash Day
Tuesday Tips - Pumpkins! and National Squash Day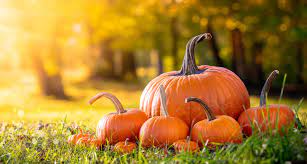 Now that Labor Day is a memory, we seem to "fall" right into autumnal activities – Pumpkin Spice, Football, Blankets, Warm Soups ………..
We soon will be seeing pumpkins at the grocery store and pumpkin patch signs everywhere. We want our pumpkins to last longer! If you want to know how to make your pumpkins last until Halloween, there are a few simple tips to help.
While artificial foam or plastic pumpkins are always an option, they just aren't the same as the real thing and they don't look as pretty on your front porch either. We personally love the fun of going to the pumpkin patch and picking out our own pumpkins. After that picking effort we want them to be around for a while.
Whether you choose your pumpkins from the grocery store, the farmer's market or at the pumpkin patch itself, these helpful tips should keep them looking good and make them last quite a bit longer.
How to Make Your Pumpkin Last Until Halloween
1. Do NOT set your pumpkin directly on your cement front steps. Place a piece of cardboard between your pumpkins and the cement.
2. Keep your pumpkin out of direct sunlight if possible.
3. If your temperatures will be dipping below freezing, take your pumpkins inside for the night.
4. Traditionally we always cut off the top of the pumpkin (around the stem) and scoop out the "innards" that way. BUT, the stem actually sends nutrients to the pumpkin even after it's cut. For a better option, cut a hole in the back of the pumpkin and scoop it out from there.
5. The heat of a candle can also make your pumpkin deteriorate faster. A better option is a battery operated tea light, small flashlight or LED light.
6. If you want to get even more involved, the key to preventing mold is to remove as much bacteria as possible. Rinse the inside (if it's carved into a jack-o-lantern) and outside of your pumpkin with a bleach/water solution (1 Tbsp bleach to a quart of water). Then to seal in moisture to prevent the pumpkin from drying out too quickly and to seal out new bacteria, smear all of the cut surfaces with petroleum jelly.
Bonus fall tip! Plant bulbs for next year's garden. There are a wide variety of bulbs you can plant in the fall that give you beautiful, colorful reasons to look forward to spring. Iris, tulips, daffodils, snowdrops, and bluebells are just a few beauties you can have working their magic under the soil all winter long.
NATIONAL ACORN SQUASH DAY (cousin to the pumpkin)
On September 7th, National Acorn Squash Day celebrates the autumn flavors found in what is also known as pepper squash.
Even though it is considered a winter squash, acorn squash belongs to the same species as all summer squashes including zucchini and yellow crookneck squash.
The most common variety comes in a mostly green outer shell, often with a splotch of orange on its side or top. However, varieties, including the Golden Acorn and the White Acorn, offer gardeners and cooks options. This versatile squash also grows in variegated color.
The acorn squash resembles its name in shape, an acorn. They usually weigh between one to two pounds and generally grow between four and seven inches long. This hardy squash also keeps for several months, making it a great item to store for yumminess all winter long. Just be sure to store it in a cool, dry location.
Since acorn squash is versatile, it can be baked, microwaved, sautéed, or steamed. Some cooks like to stuff it with rice, meat, cheeses, or vegetable mixtures. You can also toast the seeds of the acorn squash much like pumpkin seeds.
Nutritionally, the acorn squash offers a good source of dietary fiber and potassium. It also has some vitamin C and B, magnesium, and manganese.
#naturalhomebrands #fall #pumpkins #nationalsquashday #tuesdaytips #ecofriendly