Tuesday Tips - Getting into the Holiday Spirits: Drinking Responsibly
Tuesday Tips - Getting into the Holiday Spirits: Drinking Responsibly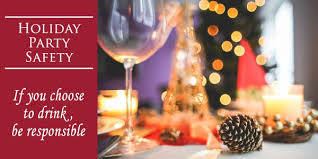 Here are some suggestions for hosting a holiday party or attending one:
Offer a variety and abundance of non-alcoholic beverages and make them highly visible and easily accessible;
Make sure that arriving guests are not handed a drink at the door – they should be comfortable about making a non-alcoholic choice;
Ensure that finger food is available from the outset so that guests are not drinking on an empty stomach;
Have someone watching for drunk guests leaving the function so they can ask if they have a sober driver;
If you are a guest, take it upon yourself to do the following: organize a designated driver; before the party, decide how many drinks you're going to limit yourself to and stick to it; be prepared to say "no" if necessary.
Some Mocktail Suggestions:
Cranberry Spice
Recipe:
1.5 oz sparkling water
2 oz cranberry juice
4 dashes Peychaud's Bitters
2.5 oz apple cider
10 cranberries (plus additional for garnish)
Orange wedge
Directions:
Muddle cranberries and orange wedge in cranberry juice, and then pour in the rest of the ingredients and stir with a spoon. Garnish with cranberries and orange peel and serve on ice.
From the Waldorf Astoria Chicago
Christmas Lights
Recipe:
2 oz cranberry juice
.5 oz lemon juice
2 oz homemade sorrel tea
Dry kombucha

Directions:
Shake ingredients with ice and strain into a champagne flute. Top with kombucha and garnish with a clove-studded orange twist.
Kimpton Seafire Resort
Apple Cranberry Spritzer
Recipe:
Apple juice
Cranberry juice
Sprite
Cranberries
Rosemary
Directions:
In a glass mix equal parts apple juice and cranberry juice. Add a dash of Sprite. Garnish with cranberries and a sprig of rosemary.
Courtesy of  Jekyll Island Club Resort, Jekyll Island, Georgia
Holiday Mule
Recipe:
.75 oz cinnamon syrup
.75 oz lime juice
.5 oz cranberry juice
Fever Tree Ginger Beer
Directions:
Combine the cinnamon syrup, lime juice, and cranberry juice in a cocktail shaker and shake with ice. Pour into a collins glass over ice. Top with ginger beer and garnish with fresh cranberries and rosemary sprig sprinkled with a dusting of powdered sugar.
From XV Beacon, Boston
Non-Alcoholic Hot Buttered Rum
Recipe:
1/2 cup butter, softened
1 cup dark brown sugar
1 cup Monk Fruit In The Raw bakers bag (or 24 packets of Monk Fruit In The Raw)
1 teaspoon ground cinnamon
1/2 teaspoon ground nutmeg
1/8 teaspoon ground cardamom
1/16 teaspoon ground cloves
Boiling water
Half and half or heavy cream
Directions:
Combine the butter, sugar, Monk Fruit In The Raw, cinnamon, nutmeg, cardamom, and cloves in a mixing bowl. Beat with an electric mixer until thoroughly combined. Use immediately, or transfer to an airtight container and refrigerate until ready to use.
To make each drink, scoop 1 1/2-2 tablespoons of the buttered spice mixture into a small mug. Pour 1/4 cup of boiling hot water into the cup and stir or whisk to dissolve completely. Add 1-2 tablespoons of half and half or cream, and stir once more. Taste, add more water or cream, as desired.
Courtesy of  Mary of Barefeet in the Kitchen
Rudolph Christmas Themed Cocktail
Our Wabi Sabi Life
Ingredients
2 C water
2 C sugar
1 12 oz. bag fresh cranberries
2 limes sliced and squeezed
1 liter tonic water
1-2 cups Sprite or 7 up
Fresh Cranberry and mint sprigs topping
ice
Instructions
Add water, sugar, and cranberries to a medium saucepan and bring to a boil
Once it starts to boil, reduce the heat and allow it to simmer for 5 minutes
Strain the cranberries into a separate bowl and pour the syrup into another bowl and allow it to cool
Slice your limes and squeeze into a large pitcher
Combine the tonic water and Sprite or 7 Up into the pitcher
Once the syrup has cooled, combine it into the pitcher
Rim glass with lime juice and rim glass with holiday sprinkles
Pour ice into the glasses
Pour the spritzer over ice and top with fresh cranberries and mint
Festive Snow Punch (Non Alcoholic)
Ingredients
 1 cup freshly squeezed lemon juice
 5 medium ripe bananas
 ¾ cup granulated sugar; superfine if possible
 2 cups half-and-half
 1 liter lemon-lime soda
 ½ gallon vanilla ice cream or frozen yogurt
 Optional Rim:
 ½ cup sweetened shredded coconut
 Canned vanilla icing or corn syrup
Instructions
Place lemon juice, bananas and sugar in a blender, cover and mix until smooth. Add half-and-half, cover and blend until smooth. Cover and refrigerate up to 1 hour.
Just before serving, pour lemon/banana mixture into a punch bowl. Stir in soda and top with scoops of ice cream.
Optional, but oh, so pretty; dip the rims of the glasses in corn syrup or vanilla icing then dip the coated rims in coconut.
Enjoy!
#naturalhomebrands
#drinkresponsibly
#christmasmocktails
#christmaspunch
#tuesdaytips