NEWS & MEDIA SPECIAL ANNOUNCEMENT
NEWS & MEDIA SPECIAL ANNOUNCEMENT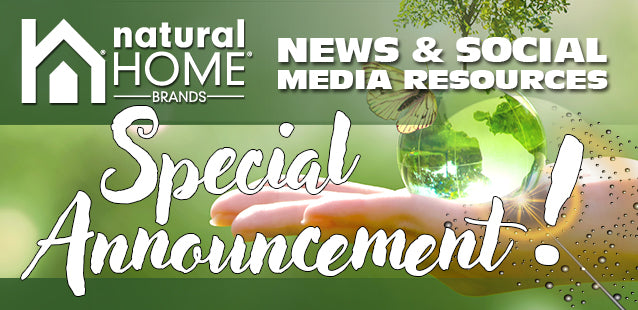 SPECIAL MEDIA ANNOUNCEMENT

Created By Carole A. Zellers
News & Social Media Announcement – Beginning in late June of 2021, subscribers, friends and customers will begin to see an exciting NEW & IMPROVED format to our News Blogs and Social Media Structures.
In an effort to make our news articles and vast libraries of sustainable tips and resources about "GO GREEN" and " ECO FRIENDLY" movements easier to sort and access, we have designed a new framework and approach to reporting that will help you sort and access topics of personal interest in a more entertaining and "user-friendly manner. We hope you will enjoy. See the details below about how you may now search the latest post using the SUB MENU at the top of all NEWS Blog Sections;
1. Make It MONDAYS

This is our collection of posts and blogs just for the DIYers in your home. We focus on various cooking recipes based on healthy eating and living OR creative craft projects and ideas using recycled or repuposed materials you can find around your home.
2. Terrific Tips TUESDAY
Terrific Tip Tuesday is a series focused on useful tips on helping to live an eco-friendly life-style. Learn about various environmental friendly topics, recycling hints , learn about composting topics, sustainable living and more. Here you will find a great tips and helpful "how-to" details that will help us all to keep our carbon foot-print to a minimal impact and begin and/or improve on making every home a natural home.
3. Wacky WEDNESDAYS

As the title suggest Wacky Wednesdays is a series on different and unusual tips, facts, fun or trivia ... but usually with an intersting twist that's sure to make you think twice about the topic. For those that just like the unusual, Wack Wednesdays are sure to bring a smile or a surprise that', well ... wacky and unexpected.
4. Thrifty THURSDAYS

This is a series on how to go green and be thrifty. Topics range from recycling to reinventing uses for objects that might otherwise go to the landfill. Watch for special discounts on a variety of products on our website, and learn about how you can ultimately turn the cost of being "eco-friendly" into being eco-thrifty too.
5. Fact or Fiction FRIDAYS

We will wrap up each week with a fun fact or fiction game or quiz ... where you get to guess the answer then click on the links in our social media post for the answer and get the rest of the story. We promise to keep it interesting and informative ... Sure to be a conversation piece to share with family and friends.
Check our posts for your favorite topic or ALL WEEK for all the fun, facts, tips and savings,and we hope you enjoy our new Blogs & Social Media formats.
AND ... please always remember it's all about our mission to help in "Making Every Home A Natural Home!" ... Thank You and Enjoy!
Please like the Facebook Page or follow us on Instagram at Natural Home Brands.
If you have an idea for one of the topics you can email me at carolez@mergecp.com. Have a great weekend!