Make it Monday - Acorn Squash Info and Recipe
Make it Monday - Acorn Squash Info and Recipe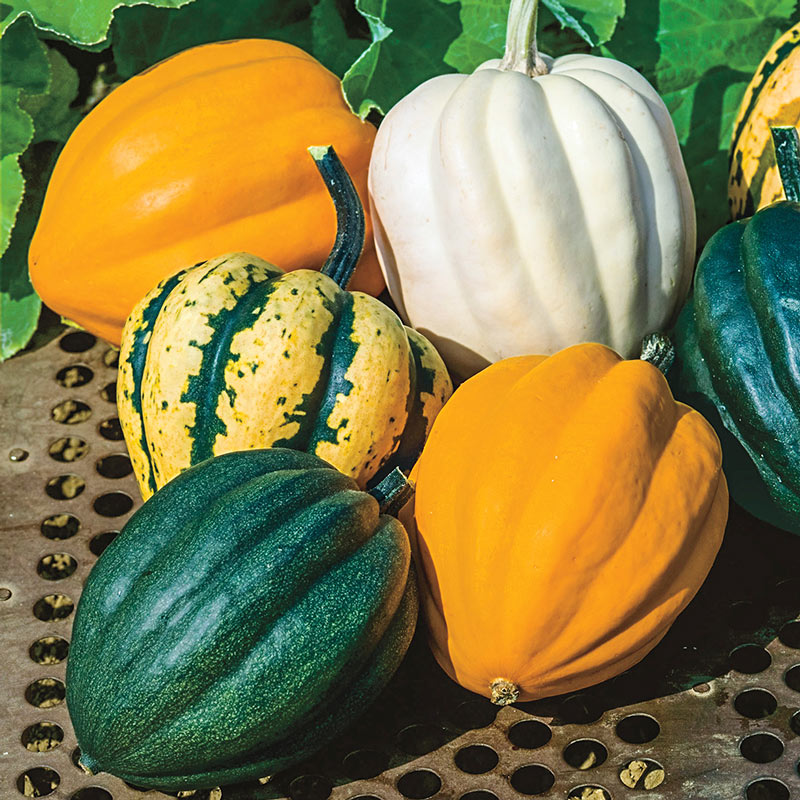 Although considered a winter squash, the acorn squash is from the same family as summer squash, which includes zucchini. It is a botanical fruit which is treated as a culinary vegetable. Squash is native to the Americas. Thought to be the first food cultivated by Indigenous tribes, squash, along with beans and corn, is part of the Indigenous triad of the three most important food staples.
It's difficult to judge an acorn squash by its outward appearance so you will need to test the vegetable by its weight and skin texture. It should feel heavy for its size with smooth, dull skin and absolutely no soft spots. Harvested when fully ripe, the average acorn squash weighs from one to three pounds; any larger and you risk getting a dry, stringy squash. When comparing, be aware that a lighter weight acorn squash has lost moisture through the skin and will be drier.
Look for some partial orange on the skin as a sign of maturity. On the other hand, too much orange coloring on the skin indicates an overripe squash which will be dry and stringy. A good balance between green and orange coloring is optimum. Shiny skin indicates it was picked before fully mature unless the producer has applied wax.
Winter squash will last up to a month in a cool (50 to 55 F) dark cellar or storage area, but only about two weeks in the refrigerator. Ideally, only cut or cooked acorn squash should be refrigerated; they will suffer chill damage at temperatures below 50 F. Dry, hot air will cause loss of moisture, resulting in a shorter shelf life. Squash with a bit of the stem still intact will help slow down moisture loss.
Plan on using acorn squash within two weeks of purchase, since you never know how long it has already been in storage and under what conditions. If you grow your own, you have more control and thus a longer storage time (two to three months). Once cut, wrap raw pieces in plastic wrap, refrigerate, and use within four days. Cooked acorn squash can be sealed and refrigerated up to four days.
Before freezing, acorn squash must be cooked. Cook squash and remove the pulp from the skin. You can leave it in chunks or mash it. Place in airtight containers and freeze up to 10 to 12 months.
Before cooking, you'll need to cut the squash and remove the fibers and seeds from the center. To make the squash easier to cut, pierce the skin in a few spots, place it in a microwave oven, and heat on high for 2 minutes. Let stand for another few minutes before carving. The deeper the yellowish orange color of the flesh, the sweeter it is. Acorn squash can be steamed, broiled, and baked.
Eco-friendly too! Comes in its own disposable (compostable and biodegradable) bowl - or even the skin is edible.
Try this delicious recipe:
Sausage Stuffed Acorn Squash
You need just 10 ingredients to make this delicious Sausage Stuffed Acorn Squash! Perfectly roasted squash is filled with Italian sausage, colorful vegetables and topped with parmasan. It's a nourishing meal that's quick enough for weeknights!
• 1 tablespoon olive oil, plus more for brushing onto the squash
• 1 yellow onion, small dice
• 1 red bell pepper, small dice
• 2 stalks celery, small dice
• 1-2 teaspoons chopped fresh thyme (or half a teaspoon dried)
• 3 cloves garlic, minced
• 1 lb mild or hot Italian sausage, casings removed
• ¾ cup freshly grated parmasan cheese, divided
Preheat the oven to 400 °F and line a large baking sheet with parchment paper.
1. Slice a small piece off the top and bottom of the squash so it can sit upright, then slice the acorn squash in half width-wise (not through the stem). This will result in a pretty scalloped edge. Scrape out the seeds.
2. Place the squash halves on the baking sheet and brush with olive oil. Turn upside down (seed side down) and roast for 25 minutes or until the squash is fork tender.
3. Meanwhile, make the filling. Over medium heat, warm 1 tablespoon of olive oil in a large non-stick skillet. Add the onion, bell pepper and celery and sauté until onion is softened and turning translucent, about 3-5 minutes. Season with salt and pepper.
4. Stir in the chopped fresh thyme, then add the minced garlic and sausage. Continue to sauté for another 8 minutes, or until the sausage is fully cooked.
5. Place the torn kale on top of the sausage mixture and cover the skillet to steam for 1-2 minutes. Stir and re-cover to continue steaming the kale, if necessary. Once the kale is wilted, stir in half the parmasan cheese and remove the pan from heat.
6. Once the squash is done roasting, remove them from the oven and turn the heat up to broil. Flip the squash bowl side up and divide the filling evenly among them (pile it high, they'll be overfull), then sprinkle on the remaining the parmasan cheese.
7. Broil for 2-3 minutes or until the cheese is melted, making sure not to over-brown the squash. Serve immediately and store any leftovers in a sealed container in the refrigerator. Eat within 4 days.
To serve 6: Use 3 acorn squash and divide the filling among 6 halves. Follow the remainder of recipe as written.
To reheat: Reheat in the oven at 350 °F for about 20 minutes or until heated through. Or, microwave for about 3 minutes, stirring the filling halfway through.
#naturalhomebrands
#makeitMonday
#acornsquash
#squashrecipe
#squash
#sausagestuffedsquash
#squashinfo
#ecofriendly